Once upon a time, my brother had a severe crush on Palm Pilots, spending days and nights creating nasty little 8×8 pixel black and white icons for his calendar application. Until then a day or week view would only show grey beams, but now these icons made it clear what each appointment was about. This turned out to be a wildly popular idea, and as soon as he made his icon set available for free it was downloaded en masse. Everyone was too lazy to create their own small, delicate icon library.
Seeing fame in the offing and dollar signs in his eyes, I (the other brother) came up with the idea of offering the icons in sets on large download sites, such as Palmgear, Tucows, and the emerging Amazon.
Downloads grew, and requests for more icons poured in, especially when the PalmPilot could also handle 16-bit colours. We recognized different needs and released several sets arranged around logical themes, which could be downloaded for a fee.
For quite a while, we designed large numbers of icons, sometimes even on demand, for all kinds of activities, appointments, hobbies, domestic tasks, Franklin Covey planning programs, and more. We worked from a proverbial garage, but actually during our free time at night or on the train to and from work. Under the name "twokidsinagarage," we maintained the image of two little boys diligently creating icon after icon: All the sets were decorated with pictures of the two brothers as toddlers.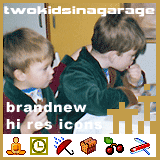 Our icons became so popular that in the late 1990s and early this century, they became the de facto standard for the most popular calendar programs for the PalmPilot and were included by default. The sets reached over 100,000 downloads on the then-modest Internet in just a few years. As a result of this popularity, we were also asked to design mini fonts for Palm programs, and a publisher even asked to publish a booklet showcasing our icons.
However, as we became too popular, we got complacent, we let our attention wane, and the competition saw its opportunity.
And then came the scandals, the talk shows… we became icons ourselves! Or maybe not. Maybe it was just little boys imagining things. In the end, it was the rise of smartphones and the complete paradigm shift that followed that put an end to our popularity.
But the two kids did not go unnoticed!
For a little while, that is…